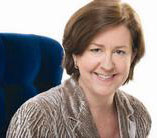 Buying momentum continues in Las Vegas
February 6, 2012
AS THE RETAIL and interior design business continues its slow-but-steady acceleration following a strong end to 2011,
buyers in Las Vegas last week responded with shopping lists and open minds. Those interviewed by Home Accents Today Monday morning hit the World Market Center campus early, where we found them running to appointments, looking for inspiration, and fishing for fresh finds. Interestingly, we found more than a few who decided to make it a multi-generational family affair. Here's more of what they had to say.
WE'VE BEEN IN business for 14 years. We recently switched over from retail to more of a design studio. Our market varies from high-end rustic to low-end contemporary and everything in between. We do town homes, fractionals and timeshares, as well as multi-million-dollar second homes. Mountain contemporary is part of it, but we also sell a lot of rustic, Spanish influence. We picked up this line (Shadow Mountain) three years ago. Over the past year or two they've evolved in the same way we have, and they work really well with where our direction is going -- great quality and customer service. At this moment in time, business is going very well, but tomorrow might not be as great, so I think it's important to keep evolving with whatever the market. We have a good client base and we have a lot of things in the works, so the next six months looks very promising. Everything is going great right now. And that's better than what I would have said six months ago. -- Nicole Martin, Steamboat Interiors, Steamboat Springs, Colo.
WE CAME IN on the red eye this morning, and are here till Friday morning. We're looking for rugs, furniture, art, and we have a lot of design clients we're shopping for. And that's something that's really helped the showroom - we're getting a lot of design jobs. People come into the store to buy a few pieces and say, "Oh well, what color do I put on the wall," and one thing leads to another. So we've beefed up our design studio. Our biggest challenge is the expensive cost of advertising, so we're trying to do more outside-the-box type promotions ... like our events. Business before Christmas was amazing -
October, November. But we sort of promote that -- get your home ready for the holidays. - Cathy Lee, Cathy Lee Style, Honolulu
WE'VE BEEN OPEN for 35 years. We're mother, daughter, grandmother, and enjoy shopping as three generations. Things that my daughter (Christine) will point out, my mom (Judy) may not like, and vice versa, but that keeps our perspectives fresh. We're looking for color. I always look for something that inspires me, something different. A lot of what you see can be kind of same-same, so when I walk here I look for something that just makes me stop and go "wow." We just bought about 75 pillows downstairs -- ikat, different ethnic patterns, some in that orange and fuchsia combination, and fresh looks like that. We have the best customers ever. They're so loyal - customers whose homes we've done three and four times as they've moved, their vacation homes ... I think it's what's kept us going for so many years. They keep coming back even when times are tough. We're retail and design services. My showroom is everything - accessories, furniture, gift items. I probably have 200 different vendors. What have we done differently to weather the recession? Be more present. We used to not work every day, and now it is six days, sometimes seven, just to be there ... to not let anything fall through the cracks. Business picked up last year, which was a huge improvement. Our Christmas was good. We're in a good little retail area. We also do a lot of fund-raisers, and are super-involved in our community. Judy was president of the Chamber of Commerce last year. - Christine Rubien, Karen Klabouch, Judy Klabouch, Green Street Interiors, Los Alamitos, Calif.
THIS IS MY third time at the Vegas market, but every now and then we come here between markets to visit showrooms. It's so quiet, and you can talk to the reps and get a little more attention. We're finding that business is definitely picking up. I was on the U.S. Bureau of Labor Statistics website the other day and read that they expect interior design to grow more than any other profession. I think businesses are realizing that good interior design and help boost their bottom line. One of the projects we're working on in Scottsdale is a Cape Cod -- exterior and interior - a lot of shaker style interior molding, paint ... we're throwing in a little bit of vintage, glam, so it's a really eclectic project. - Samantha Grova, Rachel Simmons, Dee Dee Durow, Valley Modern Design, Scottsdale, Ariz.
WE'RE A COMPANY that's been providing furniture directly to the end user, to the consumer, since 2005. We work primarily in a platform of niche sites to make things easier for the online consumer. We really aim to make the online shopping experience simpler. Our growth has been steady over the past seven years, though obviously there were some lean years a couple years ago. The past year has picked up in some areas, but really the key is to keep innovating. You always have to keep your eye out for something new and fresh. That's why we come to the show. We want to be as close to the first market as possible. This is probably about our fifth or sixth time here. I haven't been to High Point yet, but my 10th year reunion at Elon University (in North Carolina) is coming up, so I'm thinking about seeing if I can schedule those together. We come to Vegas mainly to touch base with the people we have been working with for awhile, and to maybe find someone new. We want a big year this year, so that's why we're here ... why we woke up early. - (brothers) Zach Abbell and Alex Abbell, Home Furniture Direct, Phoenix, Ariz.
WE'VE BEEN AROUND for 50 years, and have over 100 stores nationwide. We sell furniture, electronics and appliances, and we're here in Vegas to do furniture. Business is getting better, growing every year. We started selling franchises which has really boosted our business. My husband's father started the business years ago, he's now head of franchising, and my son (James) also works for the business. We're just browsing right now, looking around to see what's new. - (mother and son) Amy and James Slatton, Buddy's Home Furnishings, Tampa, Fla.