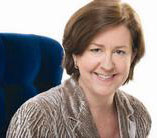 Great mood at retail: Stores restock in Atlanta following strong year-end
January 16, 2012
ATLANTA - If they're not coming off their best year or holiday selling season "ever," retailers shopping Americasmart this week say their businesses have finally taken a solid turn for the better. As a result, they're here with money to spend, and they're spending it on tried-and-true favorites, along with new lines, add-on categories and "one-of-a-kinds."
(Written with Gifts & Decorative Accessories' Meredith Schwartz, Jan. 13, 2012)

WHEN I WALKED in today and saw that line of people waiting to register, I couldn't believe it - I haven't seen that in years. Usually you walk right up, but I had to wait in line about 20 minutes to get my badge, so I hope this is an indication that things are better for everyone. We're a lifestyle store. Our business really began to turn in June. We just did our P&L and it's up a lot. When preparing for market, I really spend time going through the trade magazines, ripping out pages with product I'm interested in, making notes about what I need to see. We've been coming to Atlanta about 15 years. It's the best market. I'm looking for new things this week. I've already spent more money than I should, and I have another six days to go.
- Valerie Fischer, The Banyan Tree, Montclair, N.J.
OUR HOLIDAY SALES were better than we expected. We put our Christmas out a week before Halloween and people started shopping immediately. And they kept shopping all through the season - one of our biggest days was the 23rd. At this market we are starting with Christmas for next first, as always, and then everyday merchandise, from both new and established vendors. We're looking for something new and different, as always - we've been coming here for 20 years; this is our main buying trip because it is the biggest and the best. - Sandra Kile and Geri Forsyth, The Butter Paddle, Los Gatos, Calif.
OUR HOLIDAY SALES this past Christmas were wonderful! We do a lot of furniture and that seemed up more, and more high-end stuff was moving. We're getting ready to open a new store, so this market I'm concentrating on items for that. It is going to be a series of boutiques all combined into one store. There will be high-end furniture, a baby boutique, and a full-sized kitchen wherewe're going to bring in guest chefs and have pots and pans and gourmet foods for them to purchase. We're looking for new and different things that you can't find in a big box store. - Angela Martin, Bloomington Interiors, Bloomington, Ind.
OUR HOLIDAYS WERE great -- best ever. And (2011) was also our best year ever. We were really surprised and happy about that, and we think 2012 is going to be a good year as well. Our store is nine years old. We're country primitive home décor and accessories, and we have a wood shop in the basement of our 119-year-old building where we make our own furniture. It's all wood, mostly pine, painted and stained finishes, and can be custom-made to the clients' specifications. We're here both to restock and see new things. We've never bought in this showroom (Crestview Collection) before - there are some really cute lamps here. - Laura and Patrick Degue, The Blackbird, Holland, Mich.
WE HAD A GREAT year. Holiday especially. We're here to see new introductions in the lines that we carry because that's what we love ... and to see the new trends. We picked up this line (Surya) in Vegas last year, and just love it. It's awesome. The product works really well for us because we sell furniture, so usually there's a rug involved. Most everything is stocked, it's an eclectic line ... Candice Olson's rugs have done really well for us. We have yet to buy (Surya's) accessories but are looking at them - the poufs are a lot of fun and we're looking to carry some more affordable pillows because we have a lot of luxury pillows right now. We've been in operation since 1989, selling rugs, furniture, accessories, interior design services. - Allegra Marquardt and Mary Martin, San Luis Traditions, San Luis Obispo, Calif.
OVERALL, THE PAST few years have been challenging, but things are beginning to turn. We're 11 years old, high-end, seasonal, open May to October, in an area of second homeowners. About 45% of our business is in accessories, and we've just become a dealer for Ralph Lauren Home - furniture and lighting (Visual Comfort). This market, I'm looking for accessories and found items - like those at Bobo and Blue Ocean. - Nathan Nichols, Nathan Nichols & Co., Baileys Harbor, Wis.
OUR HOLIDAY SALES were great. Last year, we were selling mostly furniture. This year we exploded with gift, home décor and Christmas decorations. We sold more during the first week of January than we did the whole month of January a year ago. People are lingering longer and really studying the pieces. And we're expanding a lot in the gift lines, especially candles. So I'm looking at a lot of those kinds of things, and one-of-a-kinds, which is a large part of our business. One of my favorite new products so far is this line of candles (Further); they're made from refined used vegetable oil, converted into unisex soaps, lotions and candles. Nice packaging, and a great price. - David D'Ambrosio, Redefined Home Boutique, Atlanta
CHRISTMAS WENT REALLY well. I hope it will continue into 2012, but then I'm always optimistic. My store is gifts and ladies' accessories. I'm concentrating on handbags this year, especially American-made ones, because I am finding that in the past year a lot of customers are concentrating on supporting made in the USA items. But of course there can't be a similar line coming from China at half price or it won't move. - Paula J. Rosenberg, The Beadcage, Columbus, Ga.

OUR HOLIDAY SALES were up slightly. It's an encouraging season is the way we're looking at it. We're growing the kitchen and collegiate categories, and reducing apparel. We're always looking for the next hot thing, but we're also looking to reduce vendors because it is more economical. We're looking for vendors who can provide us with a wide range of products. - Nathan Stamaugh, Heritage Gifts, Sarasota, Fla.