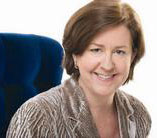 Keith Granet's 'The Business of Design' - how to run an interior design biz, develop and license products
December 9, 2011
For more than 30 years, Keith Granet has advised designers on everything from billing, branding and marketing, to product development and licensing. At the October High Point Market, Granet spoke to a packed IHFC ballroom, sharing insights and experiences along with excerpts from his new book, The Business of Design, Balancing Creativity and Profitability (Princeton Architectural Press, 2011).
Most of the book - five of six chapters - presents guidelines, tools and practical advice for establishing and managing an interior or architectural design firm, practitioners Granet describes in the same sentence as "some of the most creative people on earth" and "some of the worst business people I've ever met."
The sixth chapter is devoted to product development and licensing, an area that, for the past five years, has significantly grown Granet's company and those of many of his clients. Fifteen years ago, he successfully launched his first licensing deal, the Barbara Barry Collection for Baker Furniture. Today, licensing represents half of Granet and Associates' business, with more than 50 collections in the market and an equal number in development. 

In the book's introduction, Granet says it's a common misconception that the highest design fees and most lucrative licensing deals are landed only by the "superstar" designers. "In fact there are people out there who are hardly household names, yet have done very well financially because they know how to run a successful business," he writes. "Success in design comes to those who have a little bit of both, business sense and creative talent, or at least the good sense to collaborate with someone who can complement their strengths and weaknesses."
In High Point, Granet's presentation touched on the six ingredients he believes are necessary for success in any profession: Common sense, good knowledge, chutzpah, talent, discipline and passion. His new book goes much deeper, with engaging experiential-driven text, basic textbook-style examples, detailed graphs and one-on-one interviews with designers and architects who've "made their mark." (His client list, also in the book, includes Celerie Kimble, Thom Filicia, Victoria Hagan, Nate Berkus, Kathryn Ireland, Jonathan Adler, Jamie Drake, Clodagh, Charlotte Moss and Amelia Handegan, to name just a few.)
The first chapter is all about getting started, from exploring the options available to recent design school graduates, to instruction in how to write a business plan. The chapter also reveals Granet's "Top Ten Business Practices" which, though written for design professionals, can be applied to just about any small business:
1) Every Friday, ask your bookkeeper to give you the following: Bank balances, list of checks received that week, statements of accounts receivable and accounts payable.
2) Have the checking account statement come to you unopened.
3) Review your financial statements monthly and analyze them quarterly.
4) Learn how to say no (to the wrong client and/or project).
5) The 10% financial rule: Take 10% of your fees out of your project budgets to allow for a contingency.
6) Communicate with your staff.
7) Review your staff regularly.
8) Always promote from within, first.
9) Look for work when you're busiest. ("If you wait until you need the work, it's too late. There's a true skill in knowing when to take on the work and how to make clients wait for you until you can handle new projects.")
10) Say "good morning" and "good night" to your staff every day.
Chapters two through five present it all in detail: Financial systems, reports, accounting software, project budgeting, billing methods and fee structures, marketing and public relations, human resources and project management.
In chapter six, Product Development, Granet starts with what to expect: "I wish I could tell you that it's all about skill, talent and design, but it's about so much more, and some of the factors seem rather nebulous as well. Sometimes it's just about being in the right place at the right time. What I do tell potential clients is that the most successful designs are ones that fill a need in the marketplace. Something that you always lo
ok for but you can simply never find. When you fill those voids, the product is usually a hit."
He illustrates with the example of Suzanne Kasler, who came to Granet three years ago with an idea for a product line she felt was right for Hickory Chair, which already had a roster of high-profile licensed designers. Granet presented Kasler's work to Hickory Chair President Jay Reardon, who ran it by licensing partner Thomas O'Brien, who had recently noticed the attention Kasler was getting in national shelter magazines. "I tell you this story," Granet writes, "because it was one part about Suzanne's designs, one part about the right fit for her and Hickory Chair, one part about the press she was receiving at that particular moment, and one part about who she was as a person." Three years later, Suzanne Kasler is a major brand with six licenses (including Ballard Designs' first licensed designer collection) and more in the works.
Much of the advice that follows - behind-the-scenes stuff on product conception, design, prototyping, legal/patent research, manufacturing, distribution and marketing - is interesting to read even if you're not sitting on the design drawings for the next big thing.
For example, Granet advises potential clients to start their licensing programs at the highest price point and, once the brand becomes established, move down the marketplace to the masses. "If you start high, you can always go down, but if you start low, it's much more difficult to go up."
He presents examples of successful "brand books," which should provide a potential manufacturing collaborator with two things: An "aesthetic peek" at the designer's creativity, and a press portfolio, because "companies are very interested in how much the press follows a designer."
There is a big difference between licensing your name and licensing your designs. In that vein, Granet cautions against selling your name along with your brand, citing the example of Rachel Ashwell, who had to buy back her name when the investors in Shabby Chic went bankrupt.
When it comes to negotiating the deal, licensing agreements are typically for a term of three to five years and may include a right to terminate based on things such as lackluster sales and missed deadlines. Royalty rates, which can average between 3% and 12% depending on product category, volume and name awareness, are also specified in the contract. The designer should retain the rights to approve and sign off on all designs and quality control.
Marketing allocation and advertising are also spelled out in the licensing agreement. "If the manufacturer has an advertising program, we request that 50% of all advertising pages be devoted to the new product during its first year of launch," Granet writes. A sampling clause gives the designer one free sample of each product he or she designs and the right to buy additional products at wholesale cost for personal use -"good for the manufacturer, because it helps promote the products."
Call out a launch date, he advises, so that if products do not come to market within a specified time frame, the designs will revert back to the designer, who's free to take them to another manufacturer. If possible, negotiate an advance against royalties, and require the manufacturer to cover all expenses associated with designing the line, including travel to the manufacturer during prototyping, and to market and promote at any point of distribution. And, Granet writes, all of the product liability should fall on the manufacturer.
For more info, visit www.papress.com.