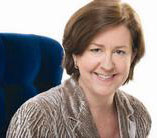 Market brings out 'the best'
November 29, 2011
This past October's High Point Market was one of my favorites to date. The weather was great, energy was positive, moods were upbeat, and it just seemed really busy. For the first time since I began making the twice-a-year commutes
ApartmentTherapy.com's Maxwell Gillingham-Ryan at WithIt's Educational Breakfast.
over from Greensboro, I found myself stalled in some pretty significant traffic backups.
In fact, this market produced quite a few significant moments for me - I learned some new things, was surprised by a few discoveries and experienced a couple of personal bests. So, since November is our Best of Market issue, I decided to share some of those here:
Favorite retailer comment(s): "The economy is doing much better than the media is reporting." I interviewed a lot of retailers and designers this market, and was surprised by the number of people who told me this, and who backed it up with tales of record store sales, expansion plans and huge design projects (see page 75 for some of their responses).
Favorite presentation: Apartment Therapy founder/blogger Maxwell Gillingham-Ryan, featured speaker at WithIt's
BBQ Joe Housand got things cookin' at The Phillips Collection.
Educational Breakfast, had me from his very first Powerpoint slide: "I love Terence Conran." Ryan shares the view with Conran that one's home should be a fluid, ever-changing expression of oneself, and that design is as much about feelings as it is about looks. "It's about creating the space that comes out of you, not about the space." Apartment Therapy's mission, he said, is to be of service to the "broad middle of people" who desire and can benefit from affordable accessibility to good design. He's a great speaker/storyteller and has completely tapped into the design zeitgeist of Middle America.
Best technology preview: The Windows 8 beta for tablets that a couple of Brandwise guys demo'd to me. Windows 8's release early next year should prove once again that the ongoing competition between Microsoft and Apple benefits us all. Think of it this way: You have your iPad (with your apps, games and reading materials), you
Cutting the ribbon to officially open the Made in America Pavilion at Market Square.
have your PC (with your business software, MS Word, Excel and Powerpoint), and you like them both. Windows 8 brings it all together in one device. 
Best meal: I set a real "Personal Best" when I ate three full plates at The Phillips Collection's second annual market barbecue. Now I understand why the Phillips family members moved their headquarters to High Point. It's so they could eat all of their meals at neighboring BBQ Joe's on South Main Street. I'm a native Tar Heel, and I've grown up pulling pork from one end of the state to the other, but BBQ Joe Housand's cooking and "special sauce" is downright other-worldly.
Notably gaining momentum: Market Square's new Made in America Pavilion debuted, almost completely booked, on the top floor of the Suites. I tried to talk to a Market Square leasing agent about it, but she was too busy giving information to exhibitor prospects who were there to book space for the next market.
Jonathan Adler's needlepoint pillows.
Favorite photo assignment: The ribbon cutting for the Made in America Pavilion. It's the first photo I've taken of Bob Maricich, Tom Conley, and International Market Centers and High Point Market Authority staffers all standing together as one organization.
Favorite collection debut: For me, this was a tie between Angelo Surmelis (angelo:HOME) and DwellStudio, who were each exhibiting their designs and licensed lines in one showcase for the first time. Surmelis, who described his new collection as "Ikea and Anthropologie's love child," and DwellStudio's Christiane Lemieux spent several days in their respective showrooms, chatting with buyers, answering questions, tweaking displays and just enjoying the market.
Favorite collection: Jonathan Adler's needlepoint and bargello pillows. I'm a lifelong needlepointer. I love the colo
rs, the patterns, the feel of the yarn, the process, the finished product, all of it. Note to J.A.'s people: If you need another needler, I'm in.
Best contest: Guildmaster's "Amazing Race." The showroom served international treats and held daily drawings for travel items as part of the build-up to prize day (the winners were announced this week, details here).
Best after-hours party: Accessories Resource Team's bowling party Monday night at High Point Bowling Center. This was the first time I've attended this market tradition, and I was pleasantly surprised to find almost every lane filled with home accessories manufacturers, buyers, sales reps and journalists.
Most humbling moment: Bowling a 54 at the ART bowling party.
Notable notes: The Greek music of the Taverna Band at Linon, local jazz and bluegrass favorites daily at Currey and Company, and The B-52s rehearsing on Center Stage Saturday aftern
The B-52s' Saturday afternoon rehearsal at Center Stage.
oon.
Notable milestone: Surya ended its 35th anniversary year with a bang, and promoted it with a banner-toting airplane, complimentary rickshaw-taxis, and a well-attended "Southern Hospitality" gala in its Showplace showroom.
Noticeably expanding: Was it just me or did it seem that the Brits were everywhere? While Charles, 9th Earl Spencer (and Princess Diana's brother) and Henrietta Spencer-Churchill held court at Theodore Alexander and Maitland-Smith, commoners roamed Halo's Union Jack-bedecked buildings and sipped Boddington's beer in Jonathan Charles' English Pub.
Noticeably absent: Empty showrooms. Let's hope it continues.