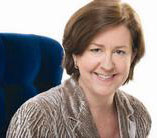 The interior designer's evolving role: The New Normal (PART 2 OF 2)
July 11, 2011
IN PART 1 OF THIS ARTICLE (Home Accents Today, June, 2011) several interior designers discussed how their role has expanded due, in part, to technology, more knowledgeable clients, the changing economy, and the need for coordination across all segments of increasingly complex design projects. This month, the dialogue continues.
       "Navigating the New Normal" was the theme of the International Interior Design Association's annual industry roundtable gathering in January of this year. The event gave participants (interior designers, the IIDA board of directors and manufacturers reps) a chance to discuss changes in the design business brought about by economics, social media and client dynamics, identify best practices, and develop the designer-sales rep relationship.
       Some of the findings were consistent with the 2010 discussion, themed "No Such Thing as Business as Usual," such as the effect of compressed schedules and reduced staff. The summary report for this year's roundtable, for example, said "The days of the daily Lunch 'n Learns are gone. With designers' time now stretched thin and reduced staff at most firms, particularly as more busi¬ness opportunity is coming in, any type of presentation at a firm must be invaluable to attendees... For CEU content, designers are interested in trends, industry information, future direction, inspiration and education."
       The major markets may be helping in this regard with their ever-growing slates of educational programming for designers, including opportunities to earn continuing education credits and "lunch 'n learns," all of which can be attended while the designer is at market.
       Anecdotally, the summer of 2009 was the first time I heard a designer say he came to the market mainly to attend seminars and take advantage of the educational opportunities. Now I hear it from several each market.
       Market showrooms have also become more designer-friendly in recent years, as reported by those we've interviewed, such as this one: "I have been in the interior design and retail furniture/accessory business for almost 25 years. Over the years, the climate has changed. In today's economy, interior designers are more likely to be welcomed into many showrooms because they often become very loyal customers of furniture vendors that respect and want their business."
       That sentiment is echoed by Jordan Barkin, a former associate editor at Veranda and, now, an account executive at Kleber & Associates, an Atlanta-based marketing firm representing home products. Barkin says interior designers have the potential to become a brand's best ambassadors.
       "Designers are a vendor's best friend because they inspire clients to transform their home, even when they don't necessarily need to. Interior designers are born marketers, lifestyle experts and salespeople," he said. "They transform aspiration into three-dimensional space. The home accents industry is an eco-system where vendors, designers and homeowners can flourish if they meet each other's evolving needs."
       Barkin said the downturn in the economy has led design professionals - from showrooms to architects to designers - to respect the value of business relationships.
       "Interior designers provide value to homeowners by being consultants, client advocates and stewards of timeless spaces," he said. "Clients can buy a piece of furniture online, but they need a designer to help them navigate the vast marketplace and determine which home accents enhance their particular lifestyle. If anything, the rise in eclectic style necessitates the input of an experienced professional. Anyone can do beige-on-beige, but color and pattern get complicated and intimidating."
       Barkin also made note of the number of independent designers who are using social media and blogs to promote their work to media and potential clients, an extended form of marketing for both the designer and manufacturer, and a topic that got a lot of play at both the 2010 and 2011 IIDA roundtable discussions.
       In last year's roundtable summary report, Jeanne Fisher, IIDA senior director of communications and marketing, wrote "Everything, from design firms' best business and design practices to the way manufacturers and manage customer relationships, is subject to ongoing evolution as a result of virtuality. Email campaigns, blogs, websites, social media - all are being employed by manufacturers in their quest to market their products to designers. And though design firms, and particularly younger staffers, increasingly are resorting to online resources as their first platform for product information, the industry by and large remains committed to the personal relationship as the primary sales and marketing tool."
       At this year's roundtable, the technology issue became more divided generationally: "Young design professionals prefer to find information online, leading to less traditional research about products, less exploration and fewer comparisons, a vast change from those who worked their way up to mid management five years earlier and paid their dues researching products via traditional methods of showroom visits and library discovery."
       On the subject of staffing, attendees at the 2010 roundtable noted that many design firms had made difficult decisions to let go of principals and higher-salaried designers in favor of keeping workers who bring more value, including those with significant project management experience and those well-versed in technology.
       This year, as firms see their business increase, the attendees collaborated to paint a picture of a successful young design professional hire as: "one focused on design, who is proactive (like a kind pitbull, with an inherent tenacity and willingness to learn the necessary skills). This young professional is strong in a team setting, has good technical skills, is creative, can articulate ideas, is proficient in 3-D, can multitask and understand budgets, will own a project while taking direction, can spec product, manage client relationships, give great presentations, think on their feet, have proficient writing skills and take pride in what they are doing."
       Share your thoughts and comments below.