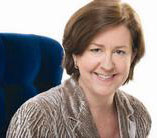 Nyla Simone Home selected for Macy's inaugural retail vendor workshop
May 9, 2011
May 9, 2011 - This morning, I'm celebrating Nyla Simone Home's participation as one of 20 businesses in the inaugural "The Workshop at Macy's," which begins today and runs through Friday at Macy's corporate offices in New
Maria Benson (center) in Las Vegas last summer with Amelia Rossi, account manager and Helen Rossi, principal interior designer for Nyla Simone Home.
York. Owner of the Phoenix-based store is Maria Benson, whom we've gotten to know pretty well since Nyla Simone Home was named to Home Accents Today's Retail Stars list in 2009.
I first wrote about The Workshop at Macy's, a retail vendor development program designed to educate, prepare, and mentor high potential business owners, back in February. Macy's CEO Terry Lundgren described the workshop, which the company plans to present annually, as an example of the retailer's "commitment to support and grow certified minority- or women-owned retail vendors that will allow us to enhance our business, while also providing our customers with compelling product."
Maria found out about the Workshop when she took a copy of Home Accents Today to the gym, and read the column while working out. She sent me an email February 11th, letting me know she had just submitted an application for The Workshop, barely making the deadline.
"This would have slid right past me if it hadn't been for your article on resources for women and minority owned businesses," Maria wrote. "I have both MBE and WBE certifications and am really excited about the prospect of attending the workshop. We are a retail store with a manufacturing component and this is a great opportunity for us."
In March, she flew to New York for an interview with some of Macy's top executives. A few weeks later, she was delighted to hear that her company was selected for this week's workshop. 
She shares more of the details on the Nyla Simone Home store blog at nylasimone.com.
Maria's mid- to high-end retail and design shop sells furniture and accessories, custom upholstery and headboards, and is the exclusive distributor for the leather and fabric designs of her father, Atlanta-based furniture designer and craftsman Arthur L. Bailey. Bailey started his furniture career more than 40 years ago, working with the Italian furniture craftsman Carlo Ugoccioni. He eventually branched out on his own, building custom-made furniture for professional athletes, entertainers and other celebrities.
Maria said this week's workshop will end with a capstone presentation in which each company will present its product line to Macy's executives to determine the viability of doing business with the retailer.