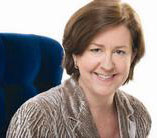 For the spring-fevered: Lilly Pulitzer Home Collection images; first 'lifestyle' store to open in Raleigh
February 14, 2011
Our Lilly Pulitzer Home Collection articles from last fall's High Point Market debut are suddenly generating a lot of hits. And I think I know why. We've made it to mid-February in the midst of a winter that has, so far, been one of the harshest
in history.
We're ready for spring.
At least I know I am -- BIG time. So much so that last night I dug out my Lilly Pulitzer silk scarf, paired it with my black winter coat, and wore it to a dinner party... and enjoyed every neon pink-orange-lime green minute of it.
Home Accents Today's website's analytics revealed this morning that I'm not the only one with pink on the brain. So, I thought I'd upload some of the "leftover" photos I took in HFI Brands' Lilly Pulitzer Home High Point showroom, where the collection debuted in October.
Click on the image to tour the showroom.
A new Lilly Pulitzer lifestyle store, the first of its kind in the country, will be opening in Raleigh, N.C.'s Cameron Village this spring. Sue Stock of the Raleigh News and Observer reported last week that the brand is moving into a space formerly occupied by Victoria's Secret in May and will sell both home and fashion.