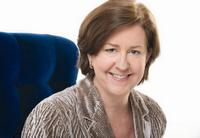 SnapRetail launches TrafficBuilder social media product with social event
August 9, 2010
Aug. 9, 2010 - Snapretail celebrated the debut of its TrafficBuilder email and social media product for retailers with a party at the summer Las Vegas Market. Guests enjoyed Snaptinis and color-coordinated cupcakes, and were invited to record the event with a visit to the Snapretail photo booth.
From left, Dann Foley, Kelly Gunn, Christi Tullis and Steve Papevies
"TrafficBuilder is a virtually automatic marketing tool that makes it a 'snap' for independent retailers to effectively market to their customers using customizable marketing materials that come directly from the vendors they love," said Ted Teele, CEO of Snapretail. "TrafficBuilder also offers retailers the ability to entice consumers by posting online photo albums on Facebook, Twitter and via email of fresh products that are about to arrive in stores."
More than 90 vendors have signed up to provide their marketing materials to retailers in the gift, home decor, furniture and garden industries including Mud
Pie, Midwest-CBK, Yankee Candle, Lindsay Phillips, Beatriz Ball, Bailey Street, Imax and Evergreen. More than 1,500 retailers have signed up for TrafficBuilder's Trial Edition, which gives store owners a three-month free subscription period to use the software.Ted Teele with Caroline Kennedy, Gifts & Decorative Accessories
Retailers can sign up for the free trial, which runs through October 31st, at www.snapretail.com/trafficbuilder.
Snapped! in the photo booth