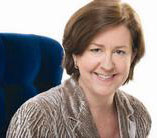 MacKenzie-Childs Annual Barn Sale scheduled for July 16-18
July 8, 2010
MacKenzie-Childs is holding its annual Barn Sale next week (July 16-18) at the company's Aurora, N.Y. headquarters. More than 80,000 items will be offered, including
handcrafted ceramics, enamelware, glassware, furniture and decorative accessories, at up to 80% off original retail prices.
Representatives for Mackenzie-Childs report that the Barn Sale will include high-quality seconds and discontinued items and feature more products, registers and tents than last year.
During the event, the company will debut its new outdoor furniture collection in the MacKenzie-Childs Shop, located in the Courtly Check Courtyard. Live music will be provided and food will be available for purchase from the Dinosaur BBQ.
In addition, MacKenzie-Childs will offer visitors free tours of its restored Victorian farm house. The MacKenzie-Childs farm, overlooking Cayuga Lake, is also home to gardens, duck pond and pastures, a herd of Scottish Highland cattle, Gothic Revival-style Chicken Palace, antique horse barn and a 1930's greenhouse.
The sale will take place from 8 a.m. to 6 p.m. each day. For more information and directions, visit mackenzie-childs.com/barnsale.