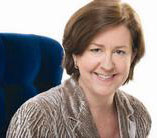 Retailers, share your thoughts and ideas at market roundtable discussion, or as a panelist
July 6, 2010
Home Accents Today is looking for some new voices to join us at the Atlanta market for a closed-door Retailer Roundtable discussion about business -- operations, vendors,employees, customers and anything else that may be on your mind.
These ongoing discussions, held at the major markets, are moderated by ART (Accessories Resource Team) Executive Director Sharon Davis, and covered in Home Accents Today as the Retailers Unplugged features.
Comments made by participants are unattributed, and the names of participating retailers are kept anonymous, to encourage open dialogue.
The Atlanta roundtable will be held Sunday morning, July 18, at 9:00 a.m. Any retailer who will be in Atlanta that morning and is interested in attending can drop me an email for more information: sdickenson@homeaccentstoday.com.
Retail Panelists - Editor in Chief Jenny Heinzen York is also looking for retailers to participate as panelists for her market presentations in Las Vegas (topic: store operations) and New York (topic: social media). Unlike the roundtable discussions described above, these are conducted in front of an audience. If interested, please contact jheinzen@homeaccentstoday.com.