Product, styles & emerging trends
A look at the latest product, styles and emerging trends including color forecasts for the home accents industry.
Trend Ahead: The thrill of the hunt

If it is, indeed, "only the details" of how we live that distinguish us, perhaps those details become no more apparent than in our choice of home décor and design. More

Ambella Home to introduce first upholstery this fall

Ambella Home is launching an upholstery division. More

Adult Millennials, those ages 18 to 33, now total 68.8 million in the United States. Younger Millennials, between 18 and 24, total 30.9 million, which is 13% of the total U.S. adult population. Older Millennials, those ages 25 to 33, now total 37.9 million, or 16% of the total U.S. adult population. More

The combination of blue and white has burst forth in storefront windows and retail displays, its presence marking the end of an unusually long winter. More

Pantone reveals 2015 Home + Interiors forecast

Global color authority Pantone today revealed its Pantone View Home + Interiors 2015 forecast, featuring nine key trend palettes expected to influence interiors next year. More

We adore bold citrus hues for spring, infusing a sense of optimism and fresh vibrancy that's hard to beat. When mixed with white, it's exquisitely crisp and upbeat, while tonal combinations - think papaya, coral and tangerine - generate super-saturated heat for the coming season. More

Amp up the drama with arresting combinations of black and white, setting the stage for spectacularly commanding style More

Step into the Tres-chic charm of a Parisian-inspired bistro where sitting and lingering is a pastime to be savored. add in classic café chairs, delightful checks and ticking stripes, and revitalizing pops of color for inviting, old world allure. More

Alfred lord Tennyson said that "love is the only gold." This Poet Laureate of Great Britain and Ireland set the rich tone for amour in poetry, and now, modern-day romantics are falling in love with the use of gold in home design. This lustrous hue shines with passion as much today as in cultures long ago and is still used by lovers of beauty with eagerness and style. More

Find out what consumers are going to do with their tax refunds this year. More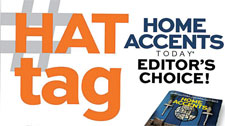 During the High Point Market, our team will scour the market buildings, seeking out our favorite new products. All selections will be pinned on our Pinterest board and shared on Twitter and Facebook, as well. Search #HATtag to get in on the fun.
High Point Market HATtags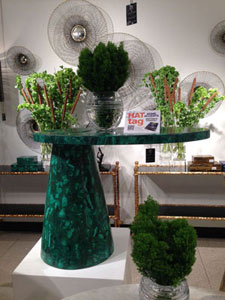 Take a look at the new products from the fall 2014 High Point Market that the Home Accents Today team awarded with HATtags. See the photos