Edit Invitations
Shown below are the current editorial invitations from Home Accents Today for company and product introduction information for our various issues.
Please be sure to read the directions closely and follow them exactly to ensure that your information is listed correctly and your product information and artwork are in the correct formats. For instructions on how to use labels for images, please click here. If you are responding to a portfolio and need help describing your style niche, consult our Style List.
---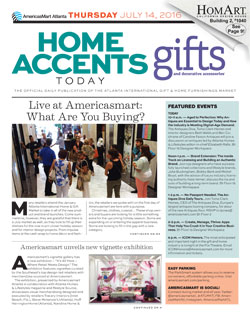 Home Accents Today is now accepting editorial submissions for the 2017 summer markets in Dallas, Atlanta, Las Vegas, Los Angeles and New York.
Vendors are invited to submit high resolution images and information about new products they would like Home Accents Today to consider for coverage in our summer markets issues, including our June, July and August national issues and live-at-market daily editions in Atlanta and Las Vegas.
For companies showing in Dallas, submit images and product and company information no later than May 12. For companies showing in all other markets, please submit content by May 26.
Please upload images, product and company information at http://www.homeaccentstoday.com/summermarkets. The site accepts 10 files at a time, including .png, .jpg, .jpeg, .psd, .xls, .xlsx, .doc, .docx, .pdf, .tif, and .tiff formats. If you wish to send more than 10 images, you will need to complete more than one submission form. Product descriptions may be entered into the form, or uploaded as Word, Excel or PDF files. If you have already submitted via email or FTP, there is no need to resubmit.
Click here for more information.
---
300dpi high resolution color jpg or tiff format images, approximately 4x5 inches or larger in size are required for printing. We cannot use low resolution 72dpi website-quality images.
Two ways to Submit Image and Text Files
Upload to our FTP site:
Host: ftp2.sandowmedia.com User ID: ftphatedit
Password: HATedit123 (the password is case-sensitive)
Important: You must create a folder with your company name in which to place your images and copy. Then, please drop us an e-mail to let us know you have uploaded your files.
-OR-
E-mail to HATmarket@HomeAccentsToday.com

Contact The Editors
Tracy Bulla
tbulla@homeaccentstoday.com
336-605-3794
Thomas Lester
tlester@homeaccentstoday.com
[Top of Page] [Home]